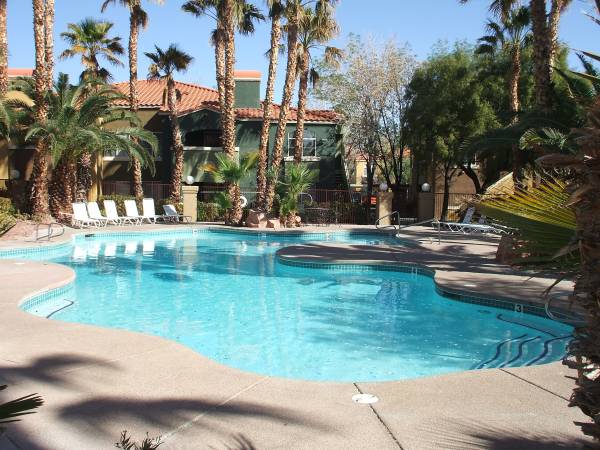 Thank you for your interest in Spanish Wells Apartment Homes. We are located in the Southwest area of Las Vegas on the corner of Rainbow Boulevard and Hacienda Avenue near the stunning master planned community of Spanish Trails. We feature spacious one and two bedroom apartment homes.

The current rate for our 814 sq. foot one bedroom is $850 for downstairs and $865 for upstairs with an additional $35 for the water, sewer, and trash. Our 1,115 sq. foot two bedroom prices are $1,000 for downstairs and $1,015 upstairs with an additional $45 for the water, sewer, and trash.

Our one and two bedroom apartment homes offer an incredible living space! All apartment homes have a full size washer and dryer, fireplace, private patio, large walk-in closets, a relaxing 80 gallon roman bathtub, and all major appliances. Our beautiful community has many amenities such as a 24 hour 2000 sq. foot fitness center, heated pool surrounded by tropical style landscaping, 2 spas, a dog park, tennis courts, and free wifi!

APRIL Special All Floorplans:
FREE RENT FROM APRIL 24TH-30TH
PREFERRED EMPLOYERS GET $100.00 MAY'S RENT

If you have any further questions, or would like additional information, please don't hesitate to give us a call at Our office is open 7 days a week from 8:00am to 5:00pm for your convenience. No appointment necessary for a tour of the property/units. Walk-ins are Welcome!




Location: Nevada -
Added on 7 days ago and expires on 23 February, Ad id: 733093



427 visits